"ArcSoft PhotoStudio 6 for Mac provides powerful photo editing functions for all levels of users, fully supporting RAW formats, 48-bit imaging and large photos. It can automatically remove photo "noise", includes a variety of image manipulation tools, and has a convenient photo management browser."

- PowerBook Central
"ArcSoft Photostudio 6 is a cost-effective program that offers a fairly good library of photo-editing and creative tools for hobbyist photographers."
- by PC World
"ArcSoft's world-renowned, affordable photo editing application PhotoStudio now includes more advanced features. ArcSoft PhotoStudio 6 is a powerful imaging editing application with new features to help you enhance, manage, print, and get creative with your digital photos."

- by photography.com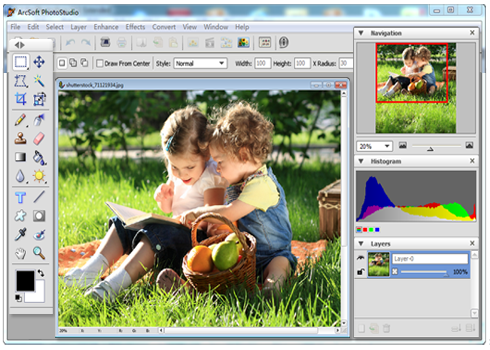 Photo editing tools at your fingertips
An array of advanced photo editing tools help you edit and enhance digital photos
Essential tools include Simple Selection, Magnetic Lasso, Photo Cloning, Photo Enhancement, Multi-Layer support, Brush and Stamp, Text Layers, Transform and Crop, Adjust White Balance, Reference Line, Change Bit Depth, Print and more
Advanced correction tools include Auto-Exposure, Auto-De-Noise, Auto-Red-Eye-Removal, Scratch Removal, Equalization and more
Record Macro lets you easily apply and process numerous photos at once using pre-recorded effects
99 levels of Undo let you edit and enhance photos trouble-free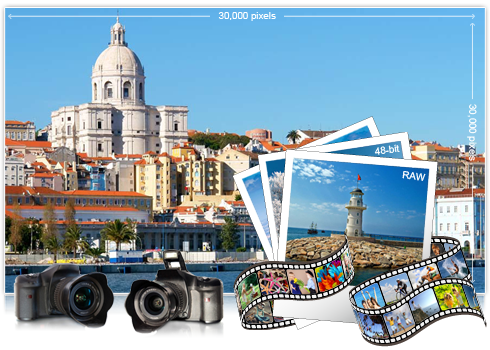 RAW formats, large image files, and 48-bit images supported
Supports importing and editing popular RAW file formats from Canon, Nikon, Panasonic, Adobe (DNG), Sony, Kodak, Olympus, and more
Processes large image files up to 30,000 x 30,000 pixels with ease
48-bit images captured from your scanner are supported
Popular formats like JPEG, PNG, GIF, TIFF, BMP, PSD and more are supported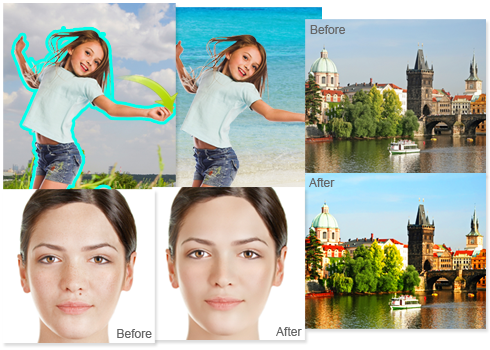 Smart photo tools you need
Magic-Cut quickly extracts an object from its background
De-Noise automatically remove photo noise in a snap
Sharpen filters with 5 different sharpening levels makes photo details stand out
Face Beautify enhances your photos naturally, including reduction of blemishes, wrinkles, moles, spots and freckles. It also adjusts face color, brightens eyes, removes red-eye, whitens and repairs teeth, changes lip color, and more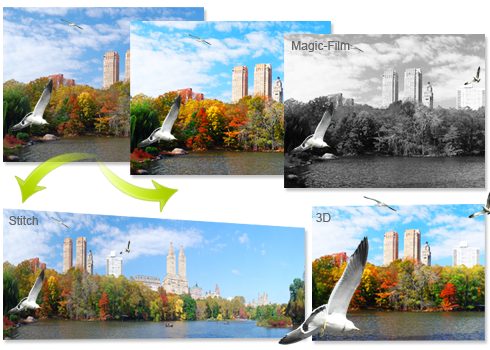 Creative photo effects and filters
Over 50 special effects and filters including distort, emboss, blur, and mosaic
Magic-Film applies professional film effects
Toy Camera adds a LOMO camera effect
HDR combines different exposure levels into one eye-popping, vibrant, and detailed image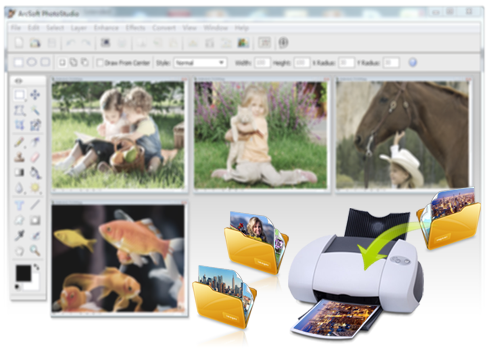 Convenient photo management, image browser, and printing
Provides a powerful browser to help you browse, search, and organize files
Embedded tagging and rating functions and a convenient calendar view
Arrange photos for printing in different sizes
Liven up your photos with effects

PhotoStudio 6 provides a variety of cool effects which you can use to distort, emboss, and blur your photo to make your photos special and vivid.

Adjust white balance

Adjust the tint of an image for the specific lighting automatically or manually to remove unrealistic color casts on your photo.

Reference line

Add a horizontal or vertical reference line to your image, moving it to any position on the photo.
Face beautify plug-in

Beautify the eyes, mouth, and skin using face feature points to define the adjusting area. Use additional tools to whiten teeth, enhance eyes, change the lip color, and more.

Transform and crop images

Transform and crop images with several shape tools.